What is the best inflatable stand up paddleboard (SUP)? Here are 9 reasons why we believe that the iROCKER SUP is the best inflatable SUP on the market. 
The Best Inflatable Stand Up Paddleboard 
My name is Chris. And with my wife Lindsay and our Australian Cattle Dog named Everest, we live full-time in our truck camper as we are attempting to drive from Alaska to Argentina. 
In 2018 we traveled over 30,000 miles from Florida to Alaska (and back) without a standup paddleboard.
No doubt there were countless times where we were disappointed in ourselves for not having a SUP to let us explore beautiful and off-the-beaten-path destinations on this journey. 
So before we crossed into Baja, Mexico we were determined to purchase the best possible stand up paddleboard that we could afford.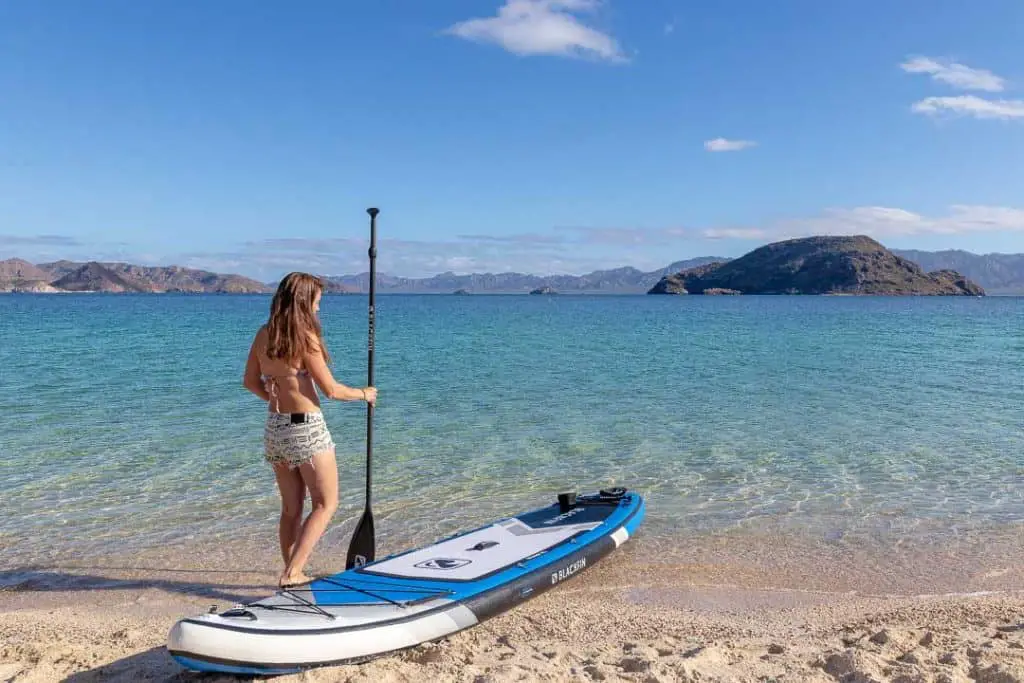 While camping along Lake Powell we made friends with several neighbors who allowed us to "test" their different SUPs before we purchased our own. 
Leaving other brands' names aside, one inflatable paddleboard stood out far more than all the others. 
Our Choice: iROCKER Blackfin Model XL (11'6" x 34" wide)
These are the reasons we decided that the iROCKER SUP was the best inflatable standup paddleboard value on the market.
 WATCH: Explore the Bay of Los Angeles in Baja, Mexico on SUP!
1) Portability.
Space is about the most important commodity in our truck camper. Having planned a multi-year journey, we are entirely self-contained with all of the gear and tools we need.
Thus a SUP becomes a luxury and not a necessity – unless you can find ways to store it accordingly.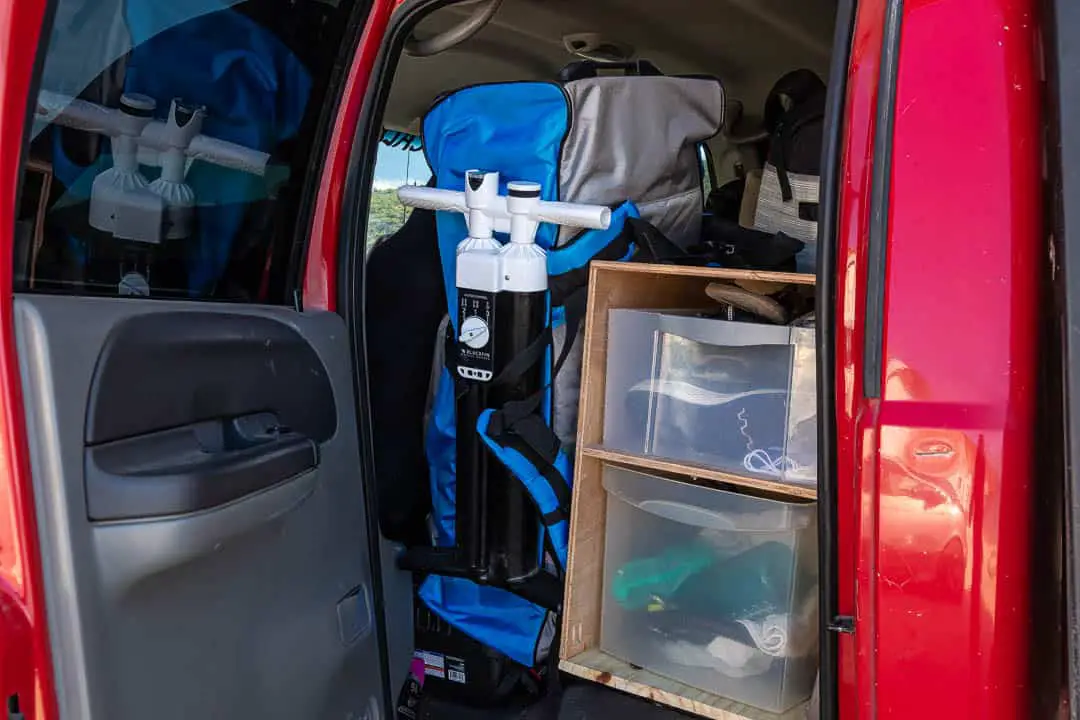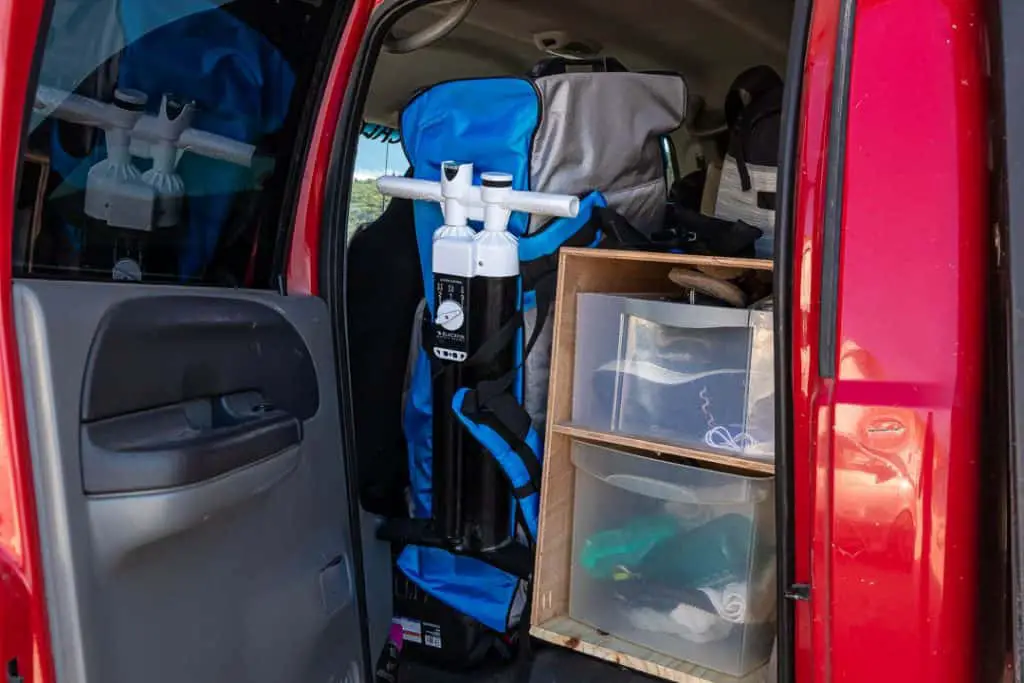 The iROCKER paddleboard is compact and lightweight.
Because of its small size, we are able to pack it away behind our driver's seat for quick and easy access.
And as it also packs away in a roller travel backpack, we can easily grab the paddleboard and hike to more remote areas that we would like to explore on our SUP.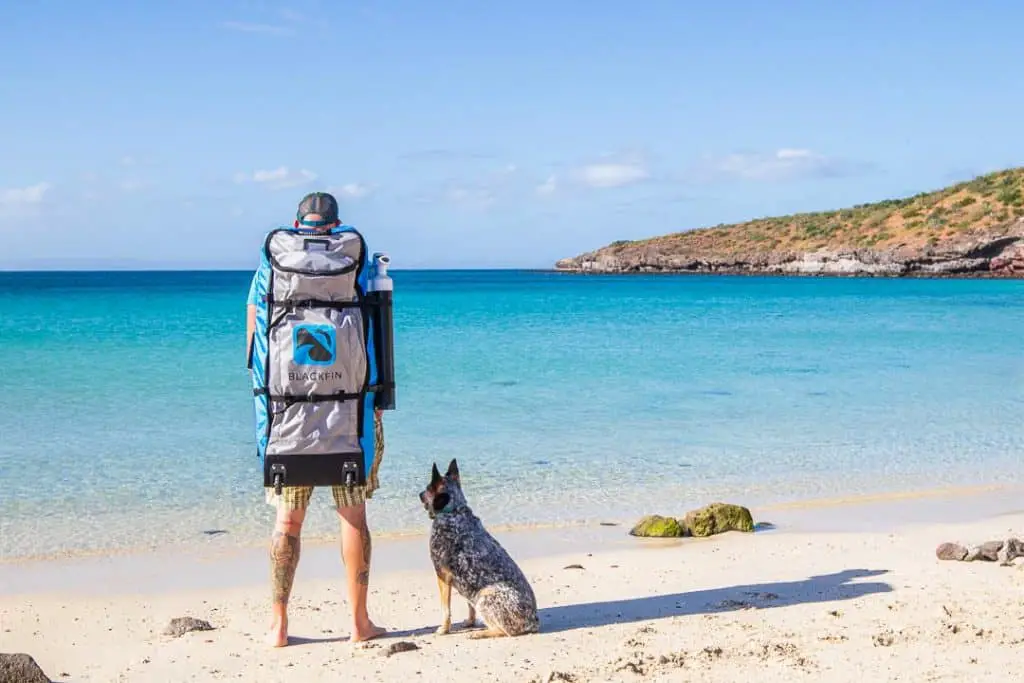 2) Ease of setup (and breakdown).
Our iROCKER inflatable paddleboard takes less than 10 minutes to set up – from unpacking it in our truck to being fully inflated.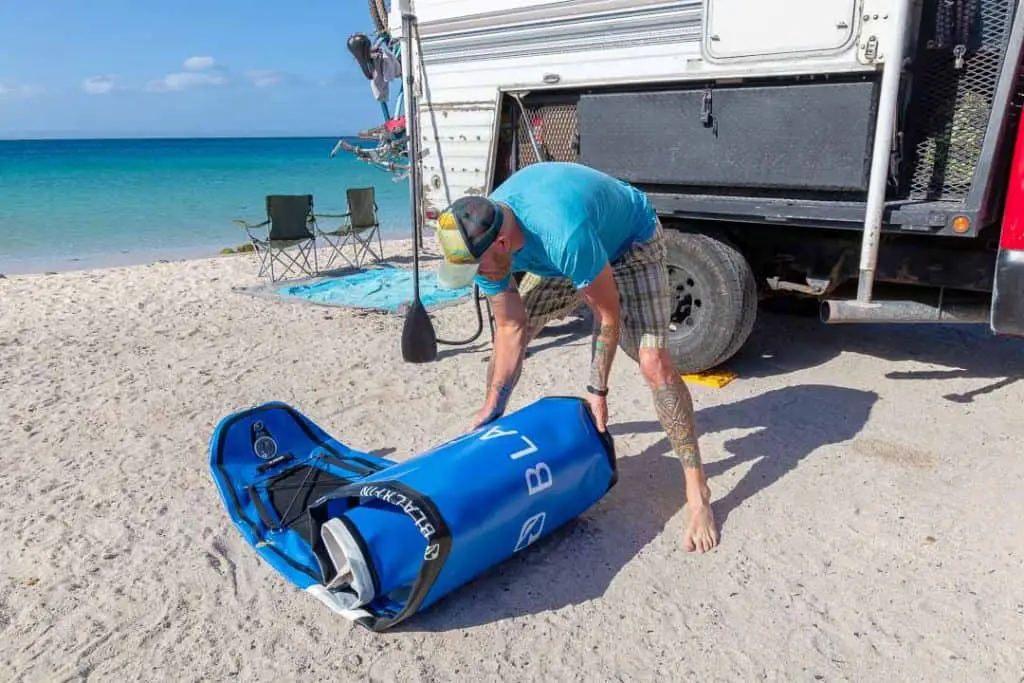 The travel pack easily stores the paddleboard for transport between our truck to wherever we would like to inflate the board.
From there the bag unzips and the paddleboard can be unrolled on the ground. Inflating is simple and relatively easy.
We have the dual chamber hand pump, which takes approximately 7-10 minutes to fully inflate our paddleboard to the maximum 18 psi.
The 3-part paddle connects in seconds and with that, we are ready to explore!
Breaking down the board is just as quick and simple.
Removing the valve immediately releases the air from the paddleboard.
Rolling the board from the nose to the rear pushes the remaining air out and leaves the SUP compact and ready to be stored in the backpack.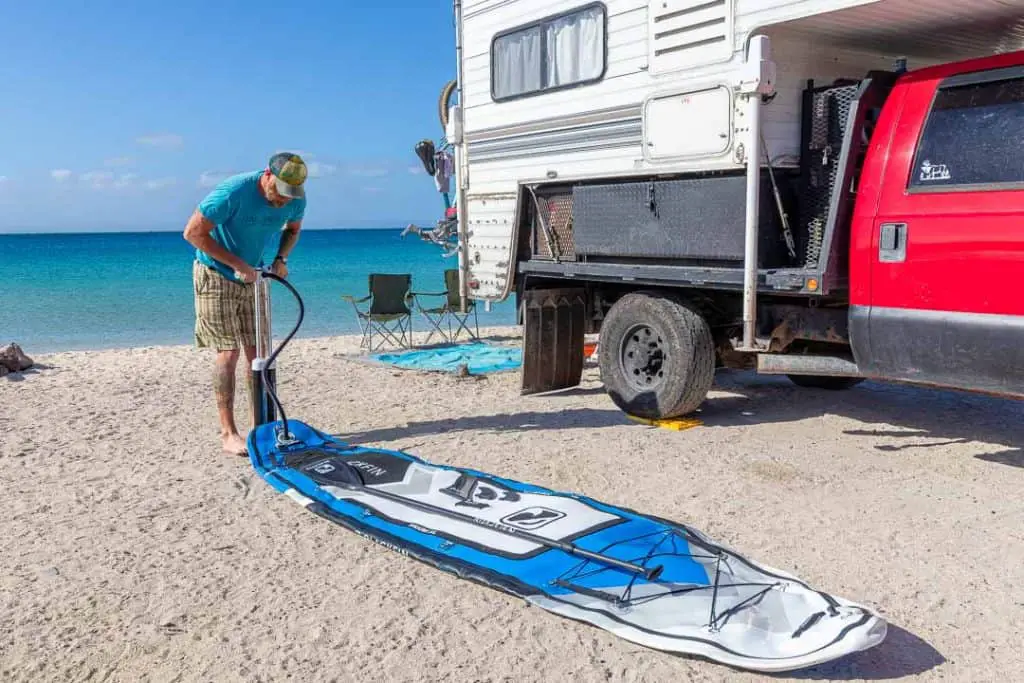 3) Lightweight. 
We are a mixed lot in size.
Chris is 6'4" and 225 lbs. Lindsay is 5'1" and 115 lbs. Everest is, well she's a medium-sized Australian Cattle dog that weighs around 40 lbs.
Chris can carry the inflatable paddleboard (and the dog, if necessary!) with ease.
However, a concern was whether Lindsay would be able to carry the paddleboard on her own.
In trying several other brands, Lindsay struggled. However, our Blackfin Model XL weighs approximately 27 lbs and is not so cumbersome that Linday can't hold and transport it on her own.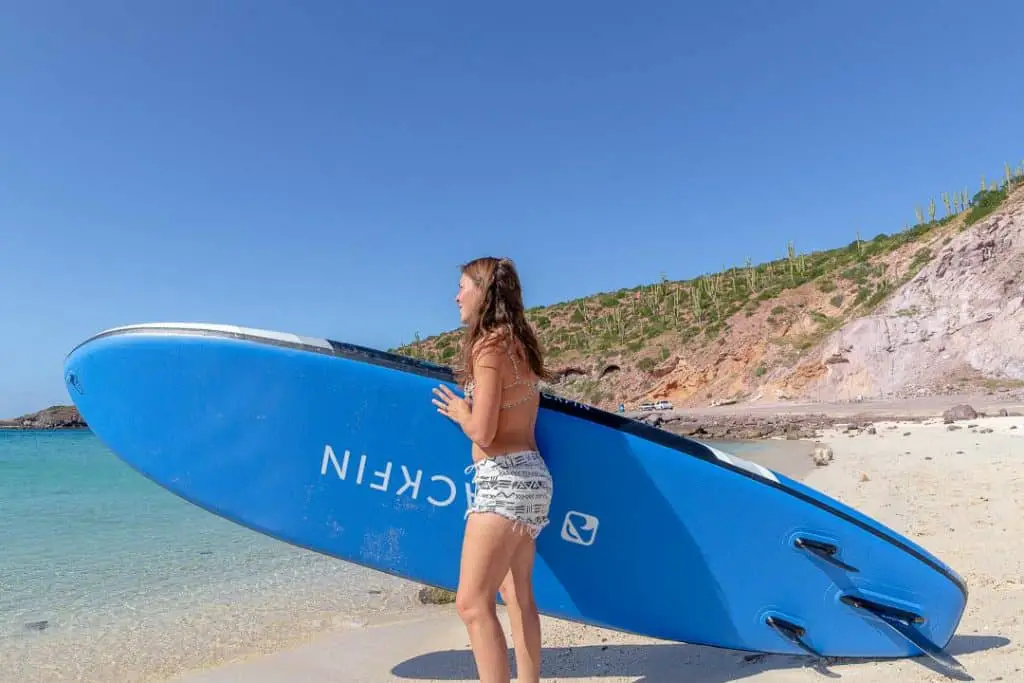 Note: This also makes the iROCKER SUP quite maneuverable in the water as well. 
4) Stability. 
Everest does not let us paddle on our own! She fell in love with the idea of an inflatable SUP the moment we started our trials on Lake Powell.
As such, we consider our iROCKER SUP a "party SUP."
At any given time Chris or Lindsay will paddle with Everest on the front of the board.
Regardless of how much Everest chooses to move as she switches positions to look for marine life or track nearby birds, we don't worry about the stability of the board.
In fact, we will sometimes load all 3 of us on our iROCKER SUP and paddle to a more remote place to snorkel, swim or simply take in beautiful views.
While having all 3 of us makes the paddleboard a little less stable, we remain well under the maximum weight range and can maneuver quite well as a family on our SUP!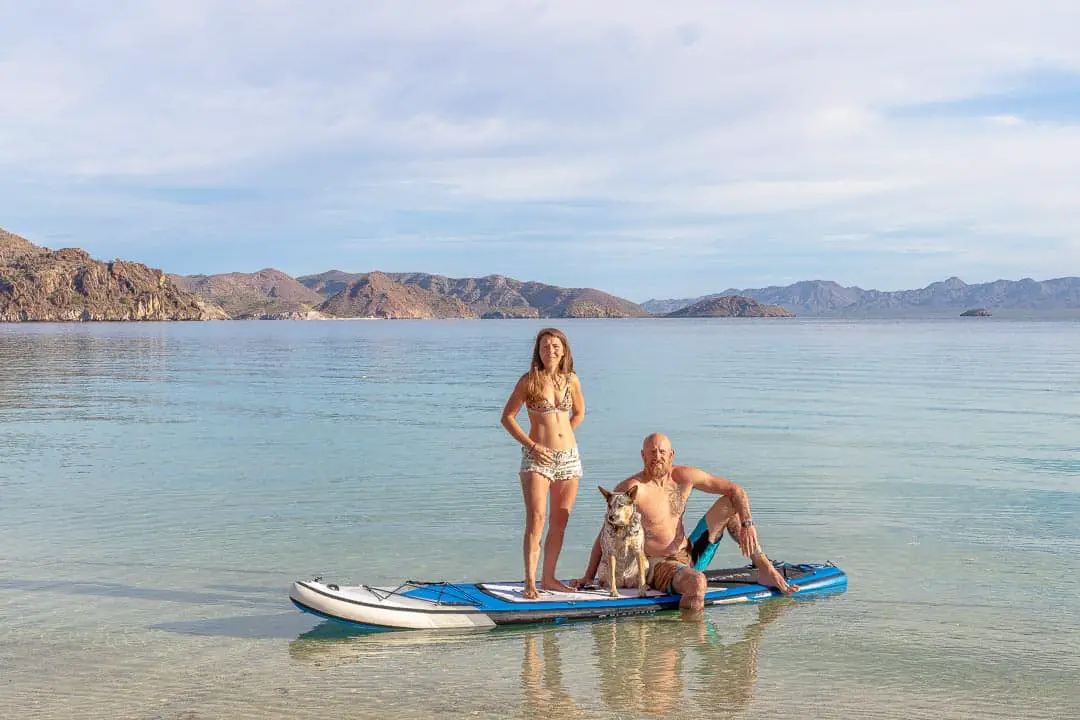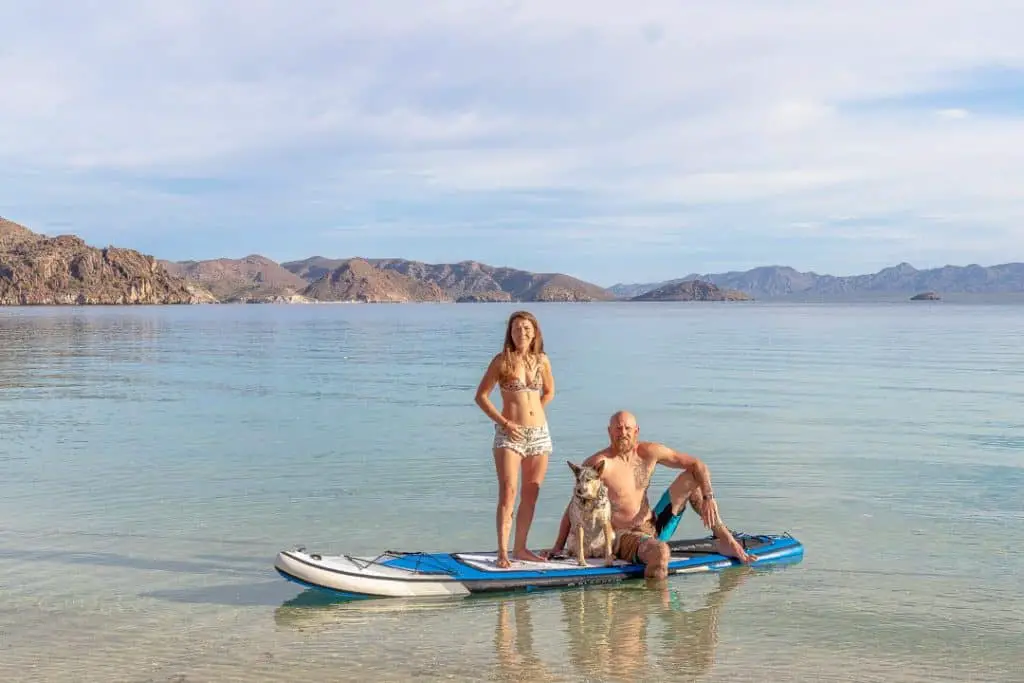 5) Versatility. 
We use our iROCKER SUP for pretty much any and every adventure that arises.
Of course, we paddleboard for the beauty of the places we visit.
But we will also exercise with longer endurance paddles in addition to simply stretching and doing crunches and pushups on the board.
Additionally, we LOVE to use our iROCKER SUP to take us to more remote places so we can snorkel, fish and swim away from people.
It allows us to literally enter new underwater worlds to explore like no other.
Further, the iROCKER paddleboard is versatile enough for us to pack a picnic to go along with our gear and we can head out for day trips (or longer if we wanted).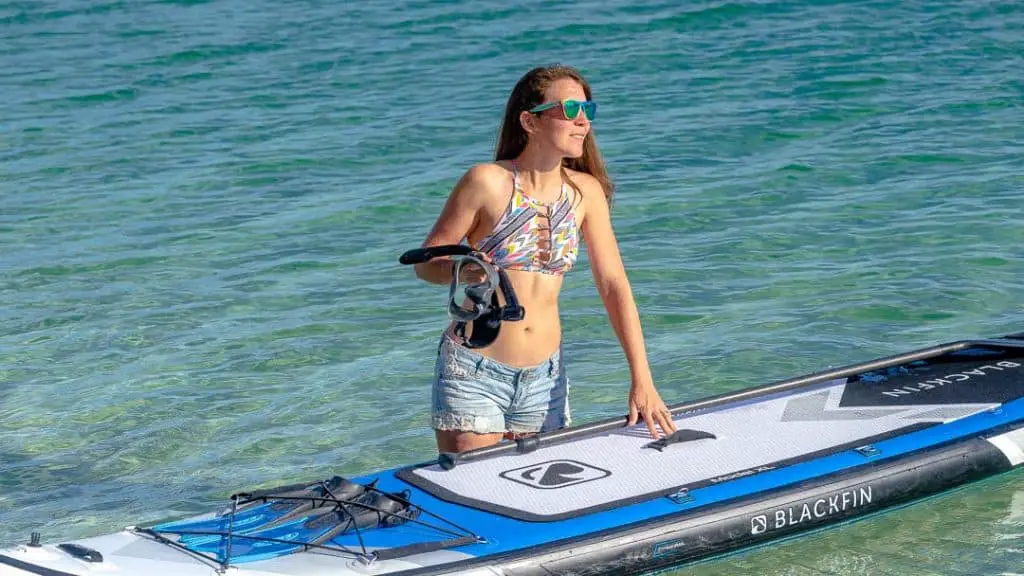 6) Adaptability. 
With a range of D-rings and 2 separate bungee systems (at the front and rear), our iROCKER SUP can be adapted for any occasion.
Whether we are clipping on a dry bag or need to tether to our inflatable kayak during rougher waters, the D-rings let us adapt as necessary.
We can also throw up a dive flag on the SUP and leash the paddleboard to our leg as our snorkel buoy while we explore the reefs.
And with the GoPro action mount, we don't have to worry about a suction mount falling off in the middle of our adventure.
Note: there are other iROCKER products such as speakers, cup holders, cell phone and fishing rod holders as well.
Our favorite adaption, which we will upgrade to shortly, is the kayak seat which turns our iROCKER paddleboard into a kayak!)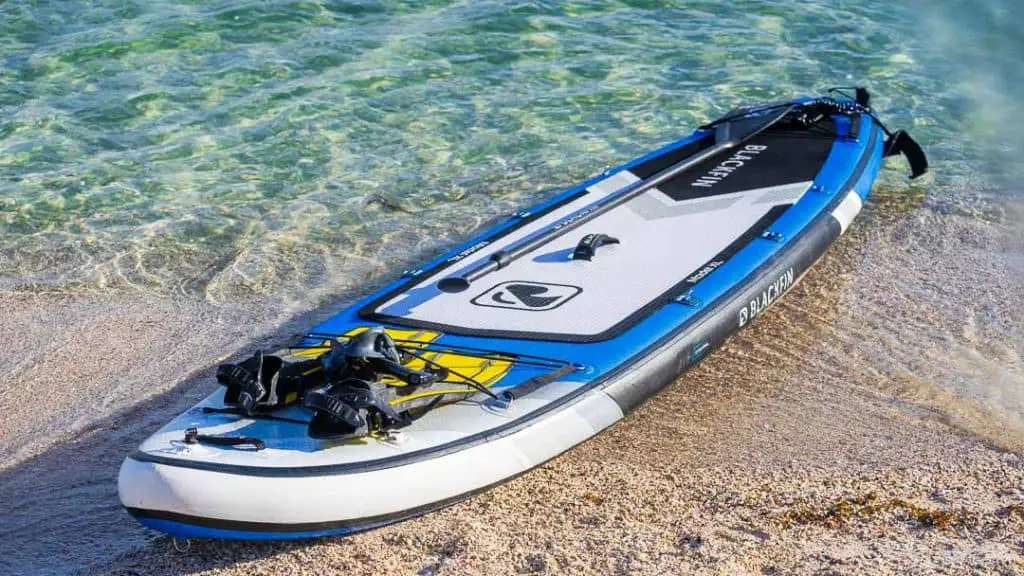 7) Durability. 
We don't worry about whether we can land on a rocky/shelly beach.
Nor do we worry about storing our iROCKER SUP or constantly unpacking and packing it.
We know that iROCKER makes one of (if not THE) the most durable inflatable standup paddleboards on the market. (See "Quality" below).
And even though Everest can be a bit tough on the board with her paws, the traction pad and paddleboard itself are rock solid. 
8) Quality. 
We are on a one-way journey south and will not be able to replace our inflatable paddleboard if something were to happen to it.
As such, we needed to ensure that the SUP we purchased was of the utmost quality.
Thus we were 100% impressed with the above descriptions, and applications, of the qualities that make iROCKER paddleboards the best.
iROCKER says it better than we can when you get into the technical specs of their inflatable paddleboards.
With features like the following, we don't worry about the quality of our SUP: military-grade PVC, quad-layer construction, dual fusion heat-welded seams, pressure tested zero fail reliability, high-density drop stitch internal core (maximum stitching per square inch).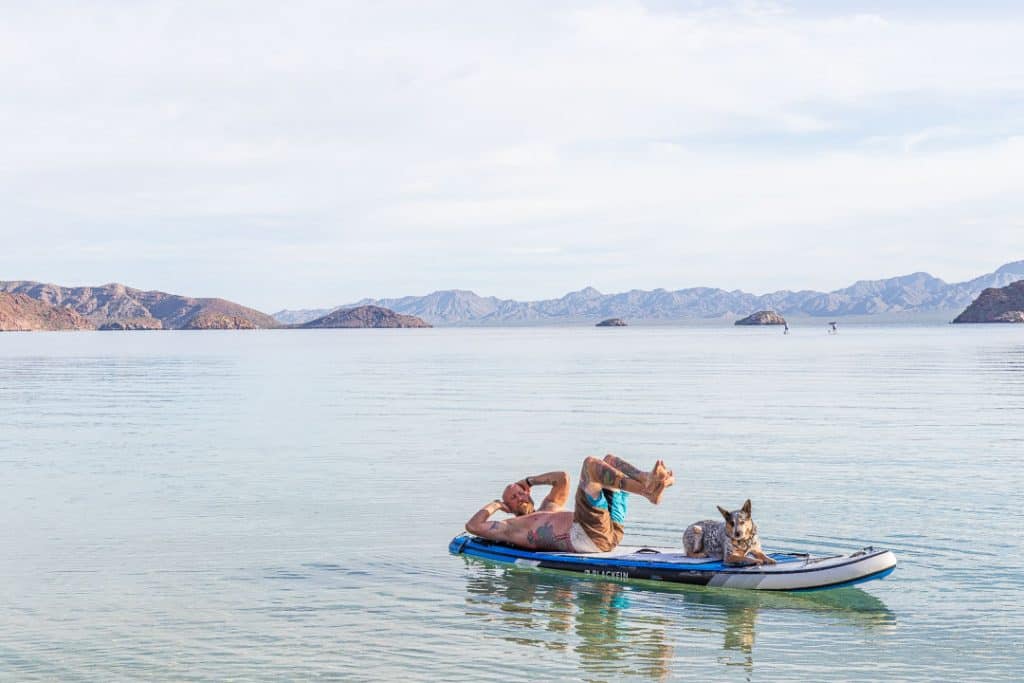 9) Affordability.  
Everything we do is on a budget.
We can't afford to dedicate space in our truck camper, nor room in our budget, for anything that does not serve the purpose for which we purchased it.
As such, our iROCKER SUP is the absolute best VALUE we could find for all of the above reasons.
We could have purchased a cheaper paddleboard but would have compromised on many of the features described.
And we also could have purchased a more expensive board, but would not necessarily have received one with any better quality (or worse).
As such our iROCKER SUP is the best decision we could have made when choosing to purchase an inflatable paddleboard. 
In Review: Why iROCKER SUPs are the Best Inflatable Paddleboards
For us the most important components of our decision to purchase our iROCKER inflatable paddleboard hinged on our desire to carry our adventure beyond where the road leads us.
For this reason, we needed something portable and lightweight, yet durable and versatile enough that we could adapt it to our surroundings.
Of course, our budget was a top consideration as well.
But we were committed to paying a premium for a SUP that would last us the duration of our 3+ year journey through two dozen countries and countless thousands of miles. 
After testing several boards the decision was simple for us. We hope it will be the same for you! 
If you find this information helpful we appreciate it if you will consider making your purchase through our affiliate link below.
We are 100% confident in our assessment of iROCKER SUPs and believe you will be happy with your decision to purchase one as well! 
Enjoy your wander!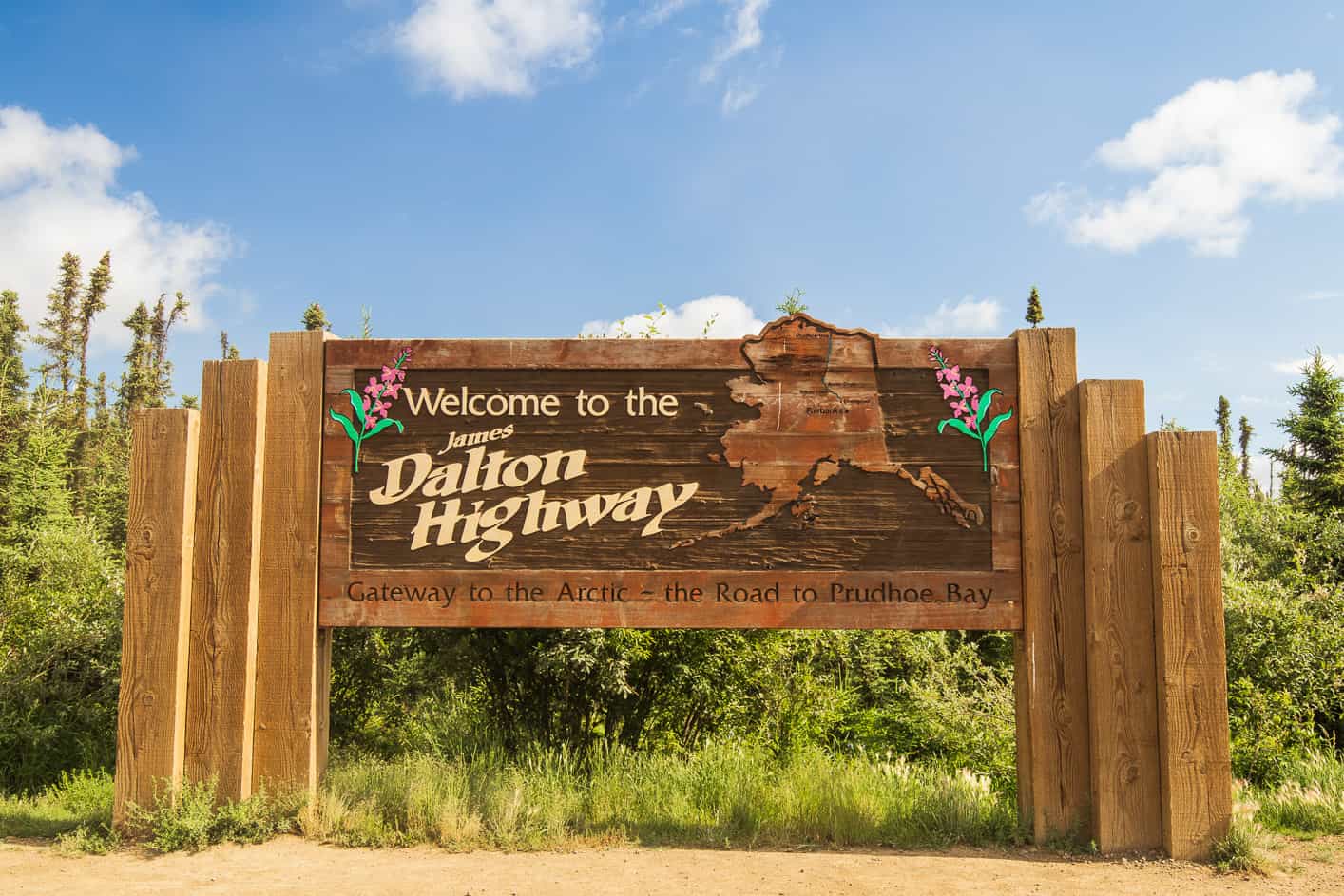 Last Updated on February 9, 2022 by Chris and Lindsay It is important to know…